Invest in commercial real estate with long-term rental income. Buy virtual offices or lockable commercial office spaces with assured returns of 10-12% from DAY 1, and rent (leasing) guarantee. Flexible payment plans, with small downpayment (Rs 2.2-2.4 Lakh) and rest installments as low as Rs 25,000 per month.

Premier companies and business tycoons already invested. Join the leaders by investing Rs 11 Lakh* onwards. Book for Rs 2.2 Lakh & easy installments (Rs 25,000/month), earn Rs 78,000 per year from Day 1.
Alphathum Noida by Bhutani Group
Bhutani Group commercial office space project in Noida. Invest in the best commercial real estate property for great regular income. Book your own office in Noida Expressway. Buy Bhutani Alphathum Sector 90 Noida. Invest in lockable commercial office spaces with assured returns of 10-12% and leasing guarantee.
ABOUT ALPHATHUM
Bhutani Group Alphathum Noida is an extraordinary commercial office project with all necessary facilities and amenities for Grade A commercial office space. Crafted for aesthetics and luxury, Alphathum has three elegantly designed towers with the world's biggest infinity pool of around 900 feet in length. The total project land area is about 25 acres, of which 17.5 acres is commercial development. The commercial office project is being developed by Bhutani Group.
HIGHLIGHTS
Surrounded by more than 75,000 apartments already delivered
Adjoining 28.9 Acres Infosys campus in Sector 85, Noida
MNCs Accenture, HCL, TCS, Wipro, Dell, Barclays, Oracle & Samsung in vicinity
Metro connectivity: Sector 137, Noida metro station to be operational soon
Road transport: Upcoming bus terminal at few minutes' walking distance
FNG Expressway and Noida Expressway
World's longest rooftop infinity pool in Alphathum
UP RERA registration:

UPRERAPRM11044 / UPRERAPRJ10115
FEATURES
Business suites
Incubation center
Premium offices
Terrace gardens
Conference room
Jogging track
Sky lounge
Infinity Pool
In Bhutani Group's Alphathum, there are commercial office spaces available in various size of 200 Sq Ft, 532 Sq Ft, 640 Sq Ft, 850 Sq Ft, and other bigger sizes (floor plan / floor plate 26,600 Sq Ft). You can invest in the right office space based on your requirement and budget.
Alphathum has already attracted many multinational companies and business tycoons to invest in better workplace and bright future. Grab this opportunity to invest with a reputed developer with sound financials and great commercial project that offers safe and secure investment with assured return for your money.
Superior location of Noida Expressway with developed residential and commercial neighbourhood, prime location with great connectivity with Delhi-NCR & Greater Noida.
Location Advantage
Prime Location on Noida Expressway
Close to Sector 137 Metro Station
Opposite Developed Sector 137 Noida Residential Locality
Proximity to MNCs & Indian IT Companies
Upcoming Central Bus Terminal Nearby
Infosys Campus Coming Up Nearby
Delhi-NCR, Jewar Airport Connectivity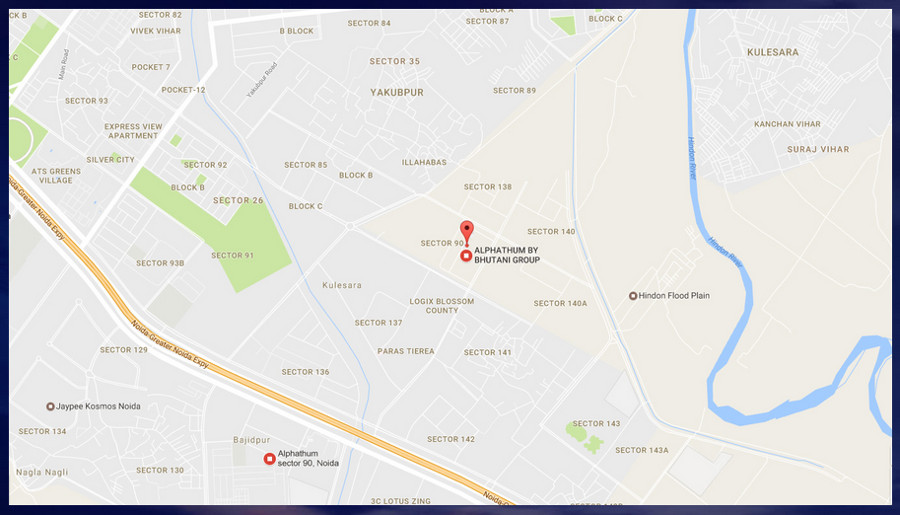 ASSURED RETURN & RENT GUARANTEE
Bhutani Group is offering assured returns up to 12% on Alphathum investments. Invest now to work in a dream work place and get assured return of 10-12% (based on investment plans), and guaranteed rental income after possession.
PAYMENT PLANS
Construction Linked Payment
— Assured Return of 10-12%
Flexi Downpayment Plans
— Assured Return of 10-12%
Super Saver Plan (Construction-Linked Milestones with Long Gaps)
— Assured Return of Rs 6,500/Month for 200 Sq Ft units
Monthly Equated Plan (30 Monthly Payments)
— Assured Return of Rs 6,500/Month for 200 Sq Ft units
All payment plans have an assured return on your investment amount immediately after booking.
LEASE GUARANTEE
Option to lease out the property at the time of booking itself, with an assured rental of Rs 36-42/Sq Ft per month for 3 years after possession. Equal profit sharing with the developer for the lease rental above the assured minimum rent for the first leasing tenure only. Get full rent income after 3 years.
For all qualifying investments, you get an assured annual return of 10%, 11%, 12% paid as monthly rental returns with high potential for capital value appreciation in Noida. With Alphathum Noida, you also get long-term rent/lease guarantee to secure your office space investment return.
INVESTMENT ADVANTAGES
10%, 11% & 12% assured returns with long rental lease guarantee
International standard architecture at highly pleasing prices
Unbeatable location for higher Return on Investments (RoI)
Booming IT sector with limited supply of office spaces
Proven track record of clocking higher RoI with I-thum & World Square Mall
Backed by strong leasing team for highest occupancy rate
Enquire Now
Please fill the form below for more details about Alphathum office investments.